Ambassador Lars Thuesen, an experienced diplomat with a strong background in the area of trade and investment, is the Danish Ambassador to the United Kingdom.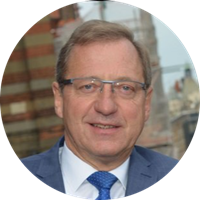 Welcome!
______________________
Lars Thuesen took up the position as Ambassador to the United Kingdom on 1st September 2017. Since then, he has lived in the Ambassador's Residence in the Arne Jacobsen-designed embassy building on Sloane Street, in which you will also find the Faroese Representation and the Icelandic Embassy.
As State Secretary for Trade and Strategy at the Danish Trade Council, the governmental export and investment organisation under The Ministry of Foreign Affairs, he was in charge of 75 employees in Denmark and 230 employees abroad located at more than 100 embassies, general consulates and trade commissions. At the same time, Lars Thuesen was member of the senior management of the ministry.
In The Ministry of Foreign Affairs in Copenhagen, Lars Thuesen has held managerial positions in the departments of Communication, Press and Culture as well as Consular Services. In his career, he has on multiple occasions worked with EU affairs, such as treaty changes, EU enlargements, presidencies, trade policy and coordination of the Danish EU policy.
In the Foreign Service, Lars Thuesen has been posted in Mexico and twice in Spain. Before he began his career at The Ministry of Foreign Affairs, he was employed in the Research Department of the European Parliament in Luxembourg. Lars Thuesen has also lived in USA on several occasions.
He graduated in the field of Political Science specializing in international affairs from Aarhus University and University of Massachusetts in 1987.
Lars Thuesen is married to Jeanine A. Ayerdi and together they have a son. The Ambassador is bestowed Commander of the Order of Dannebrog.
Contact
Embassy of Denmark
55 Sloane Street
London SW1X 9SR
Tel: 00 44 (0)20 7333 0200
Fax: 00 44 (0)20 7333 0270
E-mail: [email protected]
Mr Lars Thuesen
Ambassador

Ms Rikke Huque-Iversen
+44 (0)20 7333 0202
PA